When: Monday, July 11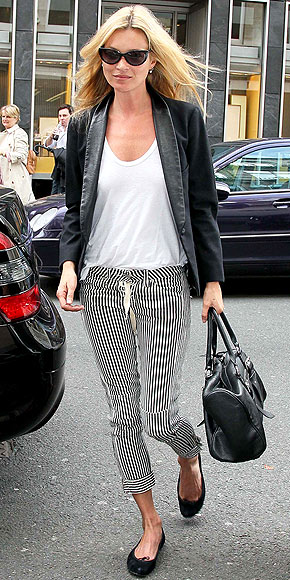 I thought, arriving home from vacation and our long awaited for family wedding over, that I would have more energy and enthusiasm to be productive. In actuality it has been the exact opposite. The only motivation for me to get out of my pajama's and be up moving at all is that today is
Inspiration Monday at Two Birds
.
I was excited for this challenge because I am a black and white type of lady. I love the two colors together and I finally found a pin striped jacket thrifting last week that works for my inspired look. I have been looking for a suit jacket that would work for casual or dressier looks but I was insisting on thrifting it instead of going to a regular store.
*************************************************
I am going to double dip and also post a little floral added to my striped skirt for
Monday: Stripe and Floral Mix...
I
first posted
a floral and stripe mix in June with this look:
I am not quite so lazy to repost an outfit though, so I decided to mix it up today with this look...
Enjoy!
XOXO,
Julie
Who:
Inspiration Monday:Jacket: Giorgio Sant' Angelo(Goodwill, $3, 2011)
T-Shirt: J Crew (Outlet, 2010)
Skirt: Grace (Ross Dress For Less, 2009)
Heels: Franco Sarto (Marshall's, 2011)
Lucite Ring: Big Cedar Lodge, Collection's Boutique (2011)
Hand Bag: Coach (Gift From My Sister, 2010)

Fashion Challenge: Trends (Monday)Dress (worn as a shirt): Dressbarn (Outlet, 2010)
Skirt: Grace (Ross Dress For Less, 2009)
Heels: Evan Picone (Goodwill, Vintage, 2011)
Belt: Accessory with Purchase of a Coat