1. What part of the world do you blog from?
OAGJ originates 10 minutes outside of Ann Arbor, Michigan and 30 minutes from Toledo, Ohio.
This area is in a region of Michigan referred to as Southeast Michigan.
In a short car ride you can be driving down a quiet dirt country road or a busy four lane expressway flying by high rise buildings.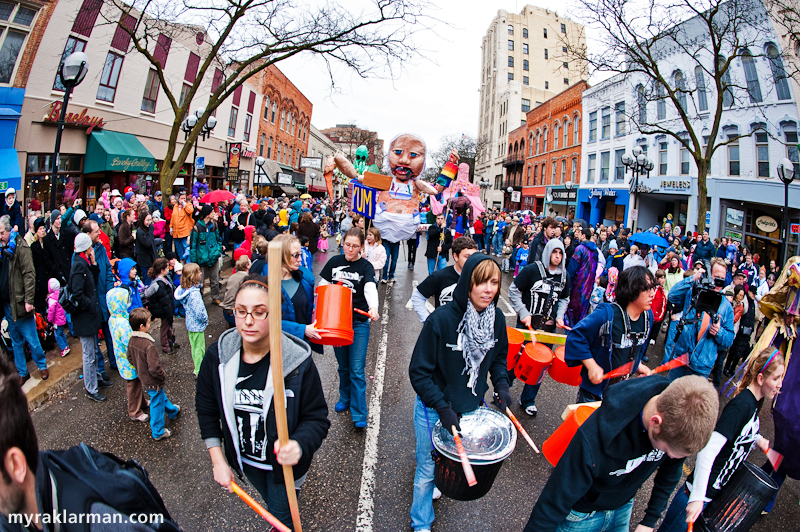 2. If you had to describe the overall mode of dress for where you live
what would you say?
Ann Arbor's style is rather eclectic with an emphasis on "relaxed preppy chic" on one end of the spectrum and "bohemian laid back" on the other.
It is the home of the University of Michigan, but there is also a very prominent "Ann Arborite" persona as well.
You find some people decked out in the latest fashion trends, they are usually from one of the Detroit Suburbs in for dinner and drinks at one of the many amazing restaurants Ann Arbor has to offer.
The local mall does contains stores that range from H&M, Ann Taylor, Bebe, Coldwater Creek, Macy's, JCPenny, Banana Republic, and Forever21 just to name few.
If you head to the downtown area you will find Urban Outfitters, American Apparel, Pitaya, and several vintage clothing stores.
If you want higher end name brands all you have to do is drive 20 minutes out into the Detroit suburbs.
So needless to say, it is quite a mix.
When you go out to eat in any type of restaurant you can see really casual dressed people sitting next to someone who looks like they should be in an Uptown Manhattan club.
3. Do you fit in with the status quo around you or do you break the
mold?

Oh, there was a time I did strive to fit in, but since hitting my 30's I strive to just be me.
I do get some appreciating looks when I head out and questions as to where I buy my clothes even though I don't really fit the vibe of Ann Arbor style.
Blogging has influenced this even more and I now pay more attention to what is going on in the blog world and mix that with what I like.
I can't say that I resemble a typical Ann Arborite anymore since I really love dressing up and mixing things up.
I am not someone who ever really enjoyed wearing button down shirts, t-shirts, or a polo shirt as my go to items.
4. If you have lived or traveled to another part of the country/world
did your clothing choices evolve?
I haven't traveled that extensively so I wouldn't say that I have had an evolution occur with a result of that. Although, I do love the independence in style of Europeans.
I, personally, don't think that trying to imitate style from another local works very well for me.
I have attempted to try to determine what is the vibe of different locations before traveling, but I find that it really works best if I keep true to myself.
One hysterical lesson that I did learn occurred during our honeymoon.
I packed two HUGE European style suitcase for 10 days of travel to Hawaii to the horror of Greg!
When we arrived I realized that I could have packed one pilot's case and that would have been perfect.
Kauai, where we stayed, was focused on swimwear, shorts, tank tops, flip flops, and flowing dresses that could be thrown on over swimwear.
Easy, relaxed, and low key was the vibe.
I have never in my life stood out like such a sore thumb in my heels and fussy outfits
.
5. If you had to describe your style by naming a specific city, what
would you be?
Ummm?
Not really sure!?
When I traveled to New York in February I thought that there would be no way that I would mix in.
I ended up being pleasantly surprised, while staying on the Upper West Side,

to see that my style worked really well and had an unexpected NYC vibe.
We did head out to the Lower East Side for dinner one evening and, while there, could tell that I would need to tweak a few things to completely mix.
Honestly, I think is was because of the HUGE mix of cultures who call NYC home.
Each group has a distinct flavor and flare but they mix to create a very unique NYC vibe.
Just as each neighborhood in NYC has it's special characteristics so do the people who live there.
Whatever, it is...I LOVE it and I LOVE NYC even more!