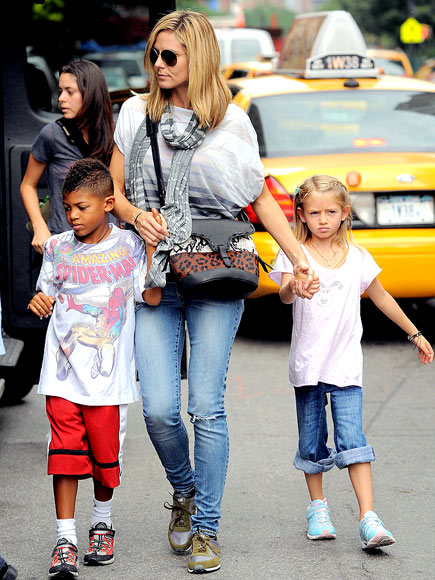 Welcome to Monday!
That means that it is another Inspiration Monday over at Two Birds.
This weeks image is Heidi Klum with her little lovelies in New York City.
Heidi is one of my favorite celebs.
She does not rely on her beauty, but her brains.
She is a very devoted wife, mother, and business woman.
I view her as a fabulous and very stylish woman.
Who, believe it or not, had a very difficult time breaking into modeling
because, GASP, she actually is curvy!
She is one hot mama and
I, for one, cannot wait until Thursday when Project Runway begins again!

So the Frau portion of my title is obviously for the lovely German lady of the inspiration image but where does the humble come in.
* WARNING: Mama Lesson Post and a lot of kid pics*
Well, as a mama myself I have been finding that my patients are running thin
with my youngest lately as she is driving me a little crazy with her antics.
Ava thinks she is incredibly funny.
Actually, she thinks she is HILARIOUS!
I do not find her choices or potty mouth the least bit funny.
Needless, to say she has been sitting in time out a lot lately.
Whenever she is sent there she quietly gets up and goes.
Always kindly asking me when she can be out of time out to let her know.
Never a temper tantrum or tear and always with a HUGE smile on her face!
Very frustrating as a mom to try to discipline your child and to have them just smile on at you.
So, long story a bit longer.
I have not been appreciating her for who she is very much lately
and instead just losing my temper with her.
That is until I had a HUMBLING moment.
I started wrangled Otto and Ava into my photo shoot today which they loved.
At one point towards the end I told them to just do whatever they felt like.
Here are the pictures.
Watch Ava as you scroll....
There it is...my humbling moment.
Watching her try to imitate my movements and
then seeing her little face looking up at me.
That is when I was brought back to reality.
This tiny little 3.5 year old girl just wants me to love her as unconditionally as she loves me.
That is all, no more, no less.
Loved for who she is as silly as she is and as off the wall as her comments are.
And at that moment, of looking at this picture of her loved filled face looking up at me I was reminded that yes, I am only human, but I can do better.
I can be more patient.
I can help to guide her in the use of her humor and appreciate her confidence to just be herself.
That, my friends, is a lot for a Monday.
So as always...
Enjoy!
XOXO,
Julie


Who:

Shirt: NY&Co, Clearance Rack
Shorts: Ross Dress For Less
Shoes: Marshall's
Bracelet: Church Festival Craft Show
Scarf: Gift From My In Law's
Bag: TJ Maxx