When: Monday, June 20
So it is
Inspiration Monday
over at Two Birds again and this weeks inspiration image was...
Olivia Wilde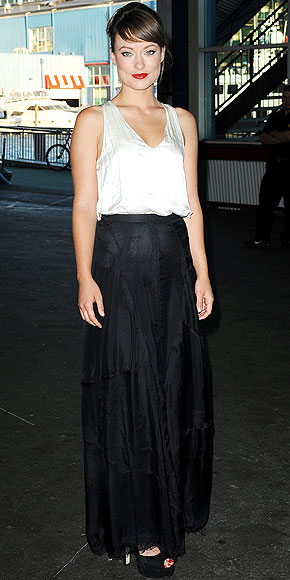 I didn't chose a black skirt for one of my 30 for 30 items so I improvised with a romper. I could actually try to pull double duty with this romper and post the image of Liv Tyler from last week since I didn't have time to participate and the shorts of this romper have the same sailor short effect as Liv's did.
I realize that my version is far less dressy than Olivia's but I like the added touch of the lace edge on my romper. I think it adds a twist that is unexpected. This romper is so comfortable but with it being a tube top it isn't as easy to lay around the house in as I would like so I will admit that I changed outfits once I was done taking these pictures. I would definitely wear the romper for an evening out that is a step up from my normal skirt and shirt or dress. I like rompers a lot and a dressier romper is a major plus for me.
Enjoy!
XOXO,
Julie
Who:
Romper: Click (JC Penny, $30, 2011)
Heels: Madden Girl (Marshall's, $25, 2011)
Earrings: Silpada (Gift From In Law's)
Bracelet: Ann Arbor Art Fair
Kauai, HI
Asos.com