Outfit Basics:
Structured Cardigan/Jacket
Animal Print Scarf
Slouchy Skinny Jeans
Slouchy Booties
Biker Chic Bag
Sunnies
Slicked back hair
Minimal Jewelry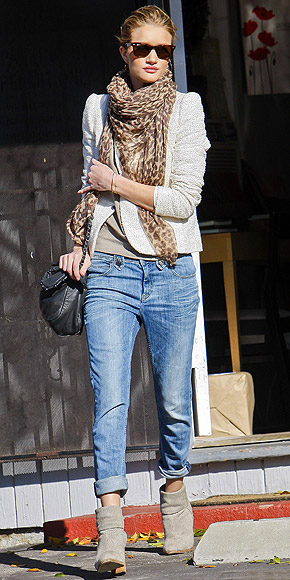 Image
I stated, in my New Year's Day post, that Greg
and I are really making it a point to work on
our personal relationship outside of being
parents to two small children for 2012.
In short, we realized that we have lost
"Us" in the process of trying to be successful
parents and employees. This can be deadly
to a marriage so it is time to make some
changes in order to have some fulfillment
and joy as a couple.

A joyless relationship
isn't really worth having otherwise.


Greg has always told me how much he loves
it when I am more natural. He would love
nothing more than for me to never wear make up
and wear fleece pullovers all the time with yoga
pants. While I appreciate my husband for
appreciating the simpler things in life.

I am by no
means a simple woman and
well, I am not ever going
to be.
While you will find me laying around in
yoga pants, fleece pullovers, and no make up
at least one day out of the weekend and most
of the summer when I am at home. I love fashion,
make up, and being stylish far too much for this
to ever really catch on.

I decided to sport Rosie's look for a double date
lunch with my sister and her husband.
(Since I
was having lunch with my sister I would normally
have gone a little bit over the top in my
outfit choice.)
However, I think I could get used to this look.
It is relaxed yet chic, stylish yet comfortable.
It strikes the perfect balance of both.
I could get used to this.

Who knows?

Maybe, I will be sporting a lot more of this
vibe as 2012 gets the ball rolling.
Bottom Line:
Stay true to myself while testing for a balance as well:)
______________________________________________
Enjoy!
XOXO,
Julie